Tips For Online Car Shopping
Buying a car strictly at the dealership is a thing of the past. Shop for your car online with ease from anywhere using these tips.
The pandemic has changed many aspects of people's lives, including the way we purchase new vehicles. The car buying process has shifted from happening solely at a dealership to parts of it, sometimes all, taking place online and with much success. A recent survey shows that 78% of American consumers who purchased their car online found it highly satisfying.
To have the best experience possible, it's important to prepare for the virtual aspects of buying a car that would normally be done in person — such as financing, test drives, and signing for the purchase.
Keep reading for tips on how you can confidently buy your next vehicle online.
Start Early
It's ideal to have as much time as possible to devote to searching for a car and financing options, so if you know you'll need or want a vehicle soon start the search right away. This will allow you to get an idea of what's out there and what kind of car you want if unsure.
If you're set on a specific vehicle already, examine the ratings and reviews your particular model has through Kelley Blue Book and Consumer Reports to ensure you know the value and reliability of your future vehicle.
Set A Budget And Find Financing
Budgeting isn't everyone's favorite task, but a car is a big life purchase you'll want to make sure fits into your finances. Determine the most you're willing to spend before shopping and stick to it so you're not tempted to go outside of your price range. You'll need to factor in taxes, titling, and other fees or add-ons when looking at the listing price, so keep this in mind when estimating your vehicle loan payment and comparing interest rates.
Shop for financing prior to heading to the dealership. This will save you time and money when negotiating. Research and compare financing options to make sure you're getting the best rate. Watch out for predatory lenders who'll charge you high interest rates or long loan terms if you don't have the best credit. Some dealers offer financing but typically you'll find lower rates when financing through your local credit union or bank. Once you're pre-approved for a loan, it sets a price range dealers will have to meet to make a sale.
Contact The Dealership For A Test Drive
Once you've found your car online, you'll want to call the dealer to verify the vehicle is in stock and available for a test drive. They may even deliver the car to you, so check ahead to see if this is something they offer. Test-driving the vehicle will allow you to get a feel for the car's driving style and catch anything you may have missed in the pictures or written description.
Negotiate Pricing
If you're dissatisfied or feel you're not getting the best price for the vehicle, speak up and state your terms. Negotiating can be daunting, but at the end of the day, the dealer wants to make a sale and you want to buy the vehicle. Use this knowledge to your advantage and negotiate with multiple dealers to evaluate the lowest price. Most online platforms allow you to inquire and submit an offer online, which can help you negotiate for multiple vehicles at once — saving you time. Once you've nailed down a fair price, it's time to make the car yours.
Signing The Paperwork
Complete any necessary paperwork with the dealer and contact your lender to sign your loan documents. Most, if not all, will give you the option to do so electronically using either a desktop, laptop, or other mobile device. With the simple click of a button your documents are signed and all without having a finance manager looking over your shoulder.
Now it's time to schedule the delivery or pick-up of your new vehicle. Inspect your new car thoroughly to make sure it looks how you want it inside and out. If all is to your liking, enjoy driving your new vehicle!
For more helpful tips on buying a car, visit our Buy a Car Life Guidance section.
Related Articles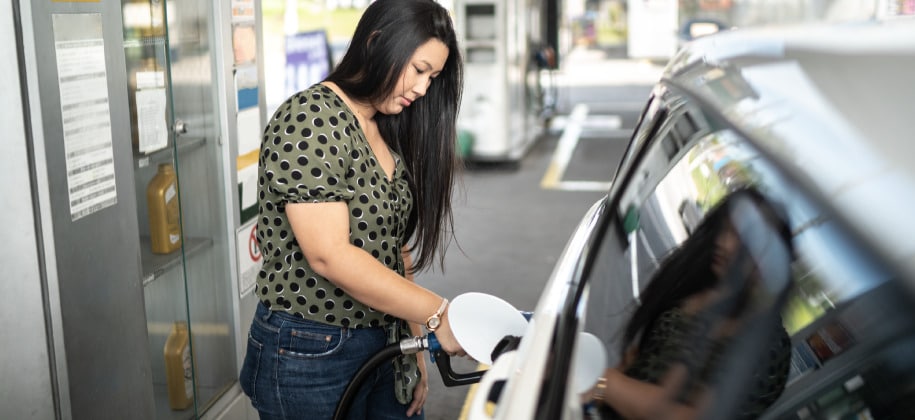 Don't let rising gas prices keep you at home. Discover little ways to save big at the gas pump.
Make your car-buying experience a good one by going in prepared with these tips.
Feeling confused about rates on loan offers? Here are key things to know about APRs.