The Scoop on the Pros and Cons of Leasing
Here are a few things to consider as you decide whether to lease or buy a vehicle.
When searching for a vehicle, it can be exciting to choose the model, color, and style, but there's more to it than that. There are many decisions to make, including whether to buy or lease.
Leasing a vehicle can be an affordable short-term option, but it's not for everyone. Get informed to ensure you make the decision that's right for you.
Pros
Fractional Costs
Generally, the monthly payment on a leased car is lower than the monthly payment on a new car. Additionally, leasing requires little-to-no money down, making it an attractive option for shoppers seeking to minimize costs in the short-term.
New Car Perks
Another benefit of leasing is being able to have a new car every 2-5 years. While this may sound purely aesthetic at first, there are perks that shouldn't be discounted, like reliability, warranty coverage, and advanced safety features.
Minimize Losses
If you buy, will you eventually sell or trade the vehicle in? If you only plan to keep a vehicle for a short time, leasing can help you avoid overpaying or owing more than the vehicle's worth. This may occur due to depreciation, the car's loss in value over time.
Cons
High Fees
Leases have strict terms including mileage restrictions. If you exceed the annual 10k-15k limit, you may have to pay up to 30 cents per mile exceeded, according to Bankrate. Anything beyond "normal" wear and tear will also cost you. Carefully review the terms.
Don't Own
Over time, leasing costs can exceed what it would cost to buy a vehicle outright. A related downfall is always having a payment, but no equity. Consider whether buying used or opting for a more affordable model are better overall options for you.
Unexpected Costs
One surprising cost of leasing can be higher insurance premiums. This is in part due to lease requirements. Moreover, a lease is a binding contract. Ending a lease isn't easy and can be costly as you may need to pay remaining payments plus fees.
Use our buy vs. lease calculator to compare costs and visit aplusfcu.org/balance to gain access to free resources covering a wide variety of topics like buying a car, credit, and more.
Related Articles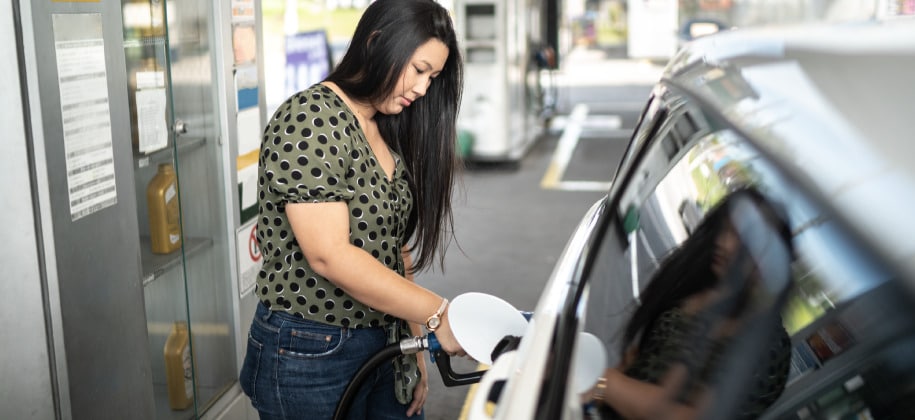 Don't let rising gas prices keep you at home. Discover little ways to save big at the gas pump.
Make your car-buying experience a good one by going in prepared with these tips.
Feeling confused about rates on loan offers? Here are key things to know about APRs.